Nowadays, sports activities and the interest of sports fans has developed with great force; this is largely due to the emergence of sports bookmakers. Therefore, Tipsterpage emerges as an alternative to provide you with tools to help you develop your digital image as a sports forecaster. Continue reading and see the advantages, how to monetise and other aspects of TipsterPage.com.
What is Tipsterpage.com
Tipsterpage.com is a digital media that arises to provide development tools to sports betting tipsters worldwide; in this sense, you will have a platform to work as a Tipster and generate income without inconveniences or complications.
Tipsterpage will give you among other benefits the possibility to create your own website for free so you can successfully manage your domain, statistics, manage your channels and RRSS.
Advantages offered by Tipsterpage to sports tipsters
Surely you have seen on the internet many websites that offer a variety of benefits and opportunities that never come to fruition; however, in Tipsterpage.com you will not have problems due to inconveniences regarding the benefits offered to you.
To better understand the situation, we will show you the advantages that you will acquire by becoming a Tipster user of our platforms:
Create your account for free
Many sites offer great benefits for you to develop your skills as a Tipster, but they ask you for deposits to start your business; well, this is not the case with Tipsterpage.com. On this online platform you will be able to register for free and start your business with no initial investment.
Of course, like any business, the system has free tools and Premium tools whose cost of affiliation is low compared to other digital media.
Develop your website
This is perhaps one of the biggest advantages that you will have when you affiliate to Tipsterpage's tool, because you will be able to develop your own domain without major complications; in this way, you will have the opportunity to expand your business digitally, generating good income and having a good online presence to make your predictions reach a large audience.
Monetise your forecasts
Trying to develop your business as an independent Tipster is a long and difficult road; moreover, in many occasions you get little or no monetary profit from the efforts you make.
In the case of affiliating and starting with the online platform Tipsterpage, you will have the advantage of having a well-established infrastructure in the market or sports niche; so you will have part of the work done, and you will only have to focus on the content you want to bring to your target audience. In this way, you will have the option to sell forecasts and therefore receive compensation or monetise sports forecasts.
Monetise by user affiliation
On the internet there are many resources to generate income by affiliation to certain products, but none like the Tispterlink tool that will allow you to generate income or monetize by affiliation of users through links or links generated by your account. In this way, each new user in the system that has been linked by your tool will produce extra income for you.
You will have your own payment gateway
By having a Tipsterpage account, you will have the opportunity to have your own international payment platform. Without a doubt, you will have a great advantage, as you will not waste time looking for solutions to receive the income you have generated on the platform.
Your users can pay their subscriptions via PayPal, Bizum, credit card or bank debit, among other methods.
Easy administration and management of your resources
You will enjoy a platform that will keep in detail all the sales and consumption statistics made by the affiliates, and will generate the corresponding receipts in a timely manner.
Receive your payment in 48 hours
You will not have to wait too long to get your earnings, because with the use of Tipsterpage.com online platform, you will be guaranteed to receive your income in 48 hours maximum.
Pay only if you sell
There will be no subscription fees that you have to pay as in most of the similar platforms; because on Tipsterpage you will only pay if you make sales. So it's a great opportunity to start as a sports forecaster.
Technical support
With the affiliation in the platform you will receive a professional support service, because, you will have available a manager or personal assistant who will give you personal attention to dispel any doubt or inconvenience you may have regarding the use of the platform.
Likewise, you will have a contact form, video tutorials and chat via WhatsApp to make queries as additional tools.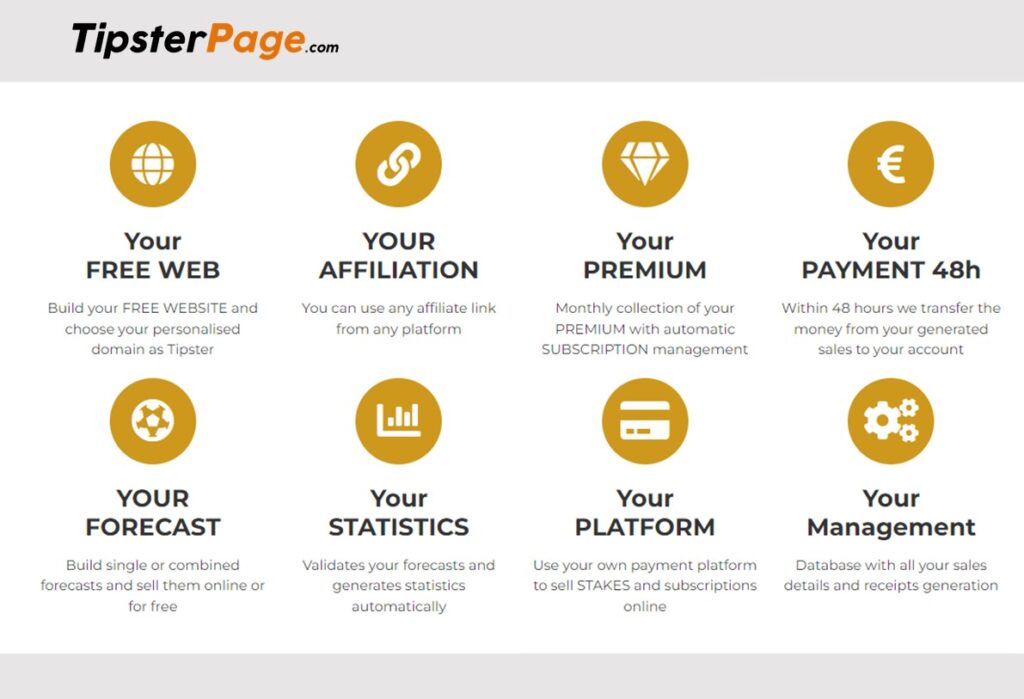 5 best tools for Tipsters
By joining Tipsterpage.com you will have access to its five fundamental tools for the development of your potential as a Tipster. Here are the tools you will have access to for free when you join the system:
TipsterPage
This is an online tool that will allow you to create your website for free, and you can also customise it to have your own domain. On this site you can share your forecasts both paid and free as you wish.
You will have the opportunity to publish your own statistics, manage your Premium channels, link any entry on your site with your social networks and much more. It has a programming algorithm capable of maintaining access control for people under 18 years of age, and also complies with the regulations established by the Spanish regulations.
TipsterManager
The TipsterManager is an administrative tool from which the sports forecaster can share single or combined forecasts, check statistics and publish results. In addition, you will have the opportunity to manage through this system the sale of sports betting tips, and configure the type of payment (punctual or by subscription), or simply publish for free.
The system has the ability to validate the results and automatically update the statistics to show reliability to your users or subscribers.
TipsterLinks
TipsterLinks is an affiliate tool of a premium nature through which you can manage, share and control the links based on the predictions you make. In this way, you can build your image as a sports tipster in a simple way.
The tool has a click meter so that you can keep track of the statistics of visits and subscriptions made through your tool.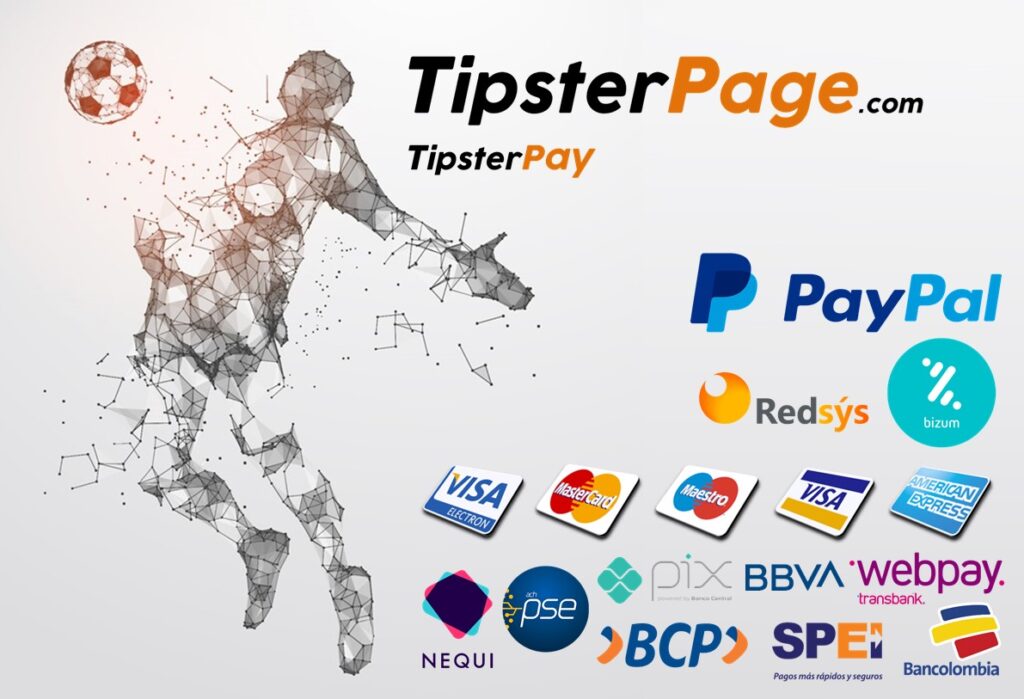 TipsterPay
This is the online monetisation module that will allow you to create VIP and PREMIUM products, manage your subscription channels, control your sales and collections, invoicing and others. You will have a payment gateway to manage your income.
TipsterTool
TipsterTool is the module or marketing tool where you will have the opportunity to manage a database of customers and subscribers; thus, you will not only have control over the sale of products, but you will also be able to monitor your forecasts and VIP subscriptions.
With this module you will have the automatic generation of sales receipts that will support your accounting and that of your subscribers.
As you may have noticed, TipsterPage.com is a platform that has several advantages and has an advanced and intelligent technology that allows you to monetize your sports predictions. In addition, its interface is user-friendly, reliable and easy to handle; you will have modules for Telegram channel monetisation, among many other benefits. Don't wait any longer and join Tipsterpage.com.